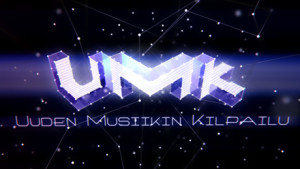 The Finnish broadcaster YLE released more information about their new type of national selection, Uuden Musiikin Kilpailu, which will decide who gets to represent the country at the 2012 Eurovision Song Contest. At the end of this month the deadline to submit an entry runs out. 
The new national final procedure have already started in Finland – the song submissions to the national broadcaster YLE continues until the end of September. Five jury members will decide the best songs to compete in the national final, Uuden Musiikin Kilpailu 2012.
The jury members are:
Anna Laine (Programmer, Radio Helsinki)
Sami Häikiö (Project Manager, Music Export Finland)
Tomi Saarinen (Head of Music, YleX)
Pauliina Ahokas (Executive Director, Music Export Finland) 
Jorma Hietamäki (Head of Music, YLE Radio Suomi)
These jury members will pick the best entries to be published online on YLE's website, then 12 of published entries will be choosen to be recorded for radio versions. At last, those songs will be cut down to 8 songs that will compete at the national selection show. 
There will be 5 shows of Uuden Musiikin Kilpailu 2012 : on February 3rd, February 10th, February 17th and February 24th. All 5 shows will be broadcast on YLE 2.
The producer of the show, Anssi Autio says about the new format:"There are a lot of talented musicians and artists in Finland. Uuden Musiikin Kilpailu
is a good and effective way for professional songwriters, as well as
for new talents, to promote their music to a wider audience".
According to the rules, the contest is open to all songwriters and artists and the style of
music is free. However, at least one of the
songwriters and the leading vocalist must be Finnish citizen or have a
permanent residence in Finland. The rest of the rules are able to be found on Uuden Musiikin Kilpau 2012's offical website.
Below you can also watch the promo videos of UMK 2012 with English subtitles:
Links