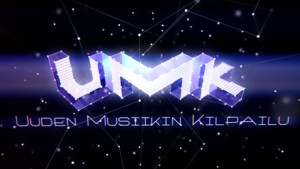 Finnish national broadcaster YLE has announced a new format in the selction of the countrys eurovision entry 2012. The contest is now open for anyone and the selction process will go through different stages. The televised part of the selection will start in January with the final being held in Helsinki in February.
The selection with the name Uuden Musiikin Kilpailu or simply UMK translates to "Contest for new music" is open for all songwriters & artists, but at least one of the songwriters and the leading vocalist must be a Finnish citizen or have a permanent residence in Finland. Only one demo is accepted from each artist, songwriters can however submit several entries. The songs are now allowed to be available to the public until the 28th of January 2012
The songs can be sent to YLE until the 30th of September 2011. After that the selection process will start. The process involves a jury selection, auditions and club gigs where the top competitors will proceed to the final which will be held in Helsinki in February.
Finland won the Eurovision Song Contest in 2006 when the hard rock band Lordi took a convincing victory with the song Hard Rock Hallelujah. Finland was represented in 2011 by Paradise Oskar and the song Da da dam and ended up 21st in the final (after a 3rd place in the semifinal).