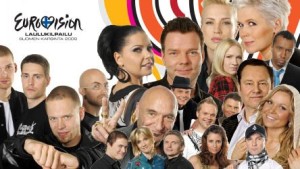 The second Finnish semi-final will be held at YLE's Tohloppi studio on Friday 16th January. Let's find out what kind of artists and songs are competing for a place in the Finnish final and who wrote the songs?
Sani is very a well-known artist in Finland. People know her as a singer with the band Aikakone, which made released songs under name Aika. Sani has experience of the Finnish selections for Eurovision Song Contest. Her first attempt was with Aikakone with song Ihan hiljaa in 1996, it finished 5th. Two years later she sang a duet with Samuli Edelmann, and that song was titled as Olen luonasi sun, which finished 6th. In 2002 she sang with Aika again, and their entry was Stay, which just missed out and finished second.
Sani entry is a pop song titled Doctor, Doctor. The composer is Maki Kolehmainen, who has written many Finnish selection entries. His most famous entry is Addicted to You by Laura, which represented Finland in 2002. The other composer is Mats Tärnfors, who has written with Maki Kolehmainen for example Kosketa mua and Take A Chance by Laura, both of which vied for the Finnish Eurovision ticket in the 2007 selection. The lyricist is a well-known Eurovision Song Contest face too. Steven Stewart wrote the lyrics for Why by Geir Rönning, which represented Finland in 2005. In fact, he was the reader of the news for An Actress by Elena Mady, which was also in Finnish final of 2005.
Passionworks is new name to the Eurovision Song Contest. This rockband includes the soloist Harriet "Harry" Hägglund, bass guitarist Kristian Pihlajaharju, guitarist Tomi Meriläinen, and drummer Markus Lintunen. They composed their song, Surrender, together. There's a bit of a surprise however, Tony Turunen will sing with them at the final. Tony is brother of Tarja Turunen, who was earlier the soloist of Nightwish.
Remu Aaltonen is also new name in the Finnish Eurovision Song Contest selections, although he has long career, which began in the 1960s as a drummer. He became famous with the band Hurriganes, but has been in other bands too. His entry is Planeetta, which he wrote with Risto Asikainen and Ilkka Vainio. The two men have written several songs for the Finnish Eurovision Song Contest selections, like Viha ja Rakkaus by Nylon Beat in 2000 and Tietäjä by Katra in 2007.
Waldo's People is a band, whose lead singer is Waldo. He came to public attention with some hits in the middle of the 90s. But he is not the only member in his band, there is a female vocalist Karoliina Kallio, who participated in the Finnish preselections of 2004 and 2005. Other members include drummer Sami Lehto, keyboard player Karl Sinkkonen, and guitarist Kimmo Nissinen. Their dance-pop entry is called Lose Control.
Who will qualify for the Finnish final? We will know come Friday night!
Let us know who you think will proceed, leave a comment with your thoughts.