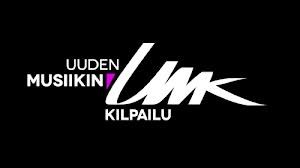 Finland tonight used the selection show Uudin Musiikin Kilpailu (UMK) to pick two more songs to progress to the national final on 9 February.  Three more would make it to the semi-final in a week's time.  Would the televoters of Finland make the right choice?
Following on from last week's show, the second heat of UMK was tonight broadcast from Helsinki's Club Cirkus to choose five songs to progress.  Like last week, two would qualify directly for the final while three more would be back next week to compete for the final's two remaining spots.
Ile Uusivuori and Anne Laite hosted the show and introduced us to the judges Toni Wirtanen, Aija Puurtinen, Tomi Saarinen and Redrama.
The songs
1. Atlético Kumpala – Paperilyhty (writer Kyösti Salokorpi) – This six-piece band started with a sustained spoken element of this jaunty jazzy song.  Lead singer Kyosti was assisted by one of the members of the band who provided interesting harmonies.  The brass section of the band (trombone, trumpet) were much in evidence during this understated song.  It may stand a chance. 
2. Krista Siegfrids – Marry me (writers Krista Siegfrids, Erik Nyholm, Kristofer Karlsson, Jessika Lundström) – Our first English song was performed by Krista appropriately wearing a stylish wedding dress.  She was accompanied by three dancers dressed as grooms in black masks and two backing singers dressed as bridesmaids.  This had a good hook which would fit well in a soundbite.  It was catchy and just a little bit rocky.  Krista had a large contingent of supporters in the crowd, and the vibe was all very positive.
3. Lucy Was Driving – Dancing all around the universe (writer Otso Koskelo) – Another band, this time a four-piece.  Writer Otso sang this mid-tempo slightly anthemic song.  The small venue may not have suited this song too well, but once it got going it again had a good hook.  During the 'middle-eight' we were invited to clap along.  It ended fairly abruptly but got a huge cheer from the audience.
4. Arion – Lost (writer Iivo Kaipainen) – More rock from the next band Arion with a fairly spectacular strobe-light show.  Lead singer Viljiami is the writer's brother, and sold this song really well.  It had hallmarks of 1980s rock ballad about it.  The chorus was very strong as was the guitar solo midway through.  This was very popular.
5. Elina Orkoneva – He's not my man (writer Elina Orkoneva) – Elina was dressed as a 1940s night club singer, on stage with a four-piece band and two female backing singers.  In a contrast to the previous three acts this worked very well.  She interacted well with her backing singers and this looks a certain qualifier from tonight.
6. Great Wide North – Flags (writers Kaj Kiviniemi, Mika Kiviniemi) – Our fourth band of the night was a four-piece.  This was more anthemic and sang of sunrises and letting flags fly high.  The lead singer performed with a banjo.  This had something about it that could appeal to a Europe-wide Eurovision audience.  It ended with a big cheer from the crowd, and got a very positive vibe from the audience.
The show
As last week, after each song the judges gave their opinions, which were all generally very constructive without being too gushing.  A recap of the six songs followed before the telephone and SMS (text) lines were thrown open.  While the lines were open, our backstage hosts spoke to the crowd, got them to sang, asked them about the banners they were waving for the various acts, and generally filled in.   After another brief reprise of the songs the judges gave their votes (below).  Before the all important televoting results were announced, singer Jesse Kaikuranta sang his latest song Järjaton rakkaus.  
The voting

Our four guest judges, like last week, got to cast votes.  These would not determine the result, but could affect the way the Finnish televoting public voted.  These votes were (out of 40):
Great Wide North – 36 
Arion – 35
Krista Siegfrids – 34 
Atlético Kumpala – 28
Lucy Was Driving – 26
Elina Orkoneva – 26
The selected songs were then announced.  The performers directly qualified for the final were Arion and Krista Siegfrids, while Great Wide North, Lucy Was Driving and Elina Orkoneva would go through to the third semi-final on 31 January. 
Below you can see the jury performances of the two qualifiers.  They will compete directly in the final of UMK on 9 February.