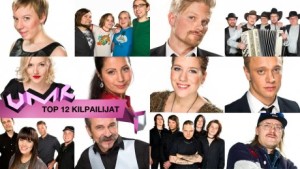 Tonight, 12 finalists will sung live for judges without public. Finland is deciding, little by little, who's going to represent the country in Baku. Of the six acts and songs, four qualified and two finished their journey
Five judges decided which songs continued another week, that's like an intimate show case where the artists only have 10 eyes watching them.
The songs :
Song n° 1 : Mica Ikonen – Antaa Mennä
Mica and his band were very confident, the song fitted him very well and seemed to be appreciated by the judges. That was certainly the most professional project of the evening.
Mica gets the ticket for next week.
Song n° 2 : Jari & Taika – Aamuyön Salaisuus
This act was a classical old fashionned song, certainly not the kind of music that ESC fans will love to hear.
The story stops here for Jari & Taika.
Song n° 3 : Stig – Laululeija
Well, even if that "reggae" song is supposed to be an easy sunny melody, Stig seemed stressed as if he was trying to remember the words of his song.
The judges decided that Stig would continue next week.
Song n° 4 : Aili – Mun Taivas
The song has a sweet and sof melody, Aili is quiet nervous while performing but her voice was very soft and professional. One of the judges was so moved that she wiped a tear from her eyes while Aili sung.
Aili's song will be there next week too.
Song n° 5 : Kiravhi Nimeltä Tuike – Sinisulkien Viimeinen

The band were very confident with their instruments, the melody is a bit a pop rock with synths that can make you think you're in the 80's. But what about the singer's voice ?
There will be no next round for Kiravhi Nimeltä Tuike.
Song n° 6 : Pernilla Karlsson – När Jag Blundar
Just Pernilla and a violonist in front of the judges, between romanticism and lullaby, a good song but will it be strong enough for an international stage ?
The answer is yes, Pernilla continues for another more week.
The shows ended with a few seconds of the 6 other songs that will be presented in more details next week.