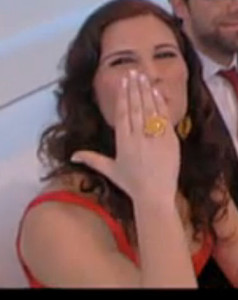 Portugal was the last of the four countries who revealed their entry for Baku this evening in the annual Portuguese selection show, Festival da Canção. Twelve songs competed and the winner was Filipa Sousa singing Vida Minha, a song in the Portuguese Fado style
In an effort to boost the nation's fortunes after failing to reach the final last year, Portuguese broadcaster, RTP, paired each singer with a selected songwriter. Sílvia Alberto and Pedro Granger presented the Festival and the singers and composers were:
1.  Ricardo Soler – Gratia Plena (Nuno Feist & Nuno Marques da Silva)
2.  Pedro Macedo – Outono Em Forma De Gente (Pedro Marques, Daniela Varela & Jaime Oliveira)
3.  Tó Martins – Amanhã Começa O Meu Futuro (Tozé Brito)
4.  Gerson Santos – Redescobrir Portugal (Tozé Santos)
5.  Joana Leite – O Amor É Maior Que A Vida (Tiago Dias & Mariza Liz)
6.  Palmela Salvado – Fica A Saudade (Miguel Gameiro)
7.  Cúmplice's – Será O Que Será (J. J. Galvão & Rui Filipe Reis)
8.  Arménio Pimenta – Um Poema Na Bagagem (Menito Ramos)
9.  Carlos Costa – Queres Que Eu Dance (João Só)
10. Vânia Osório – O Mundo Passa (Armando Teixeira)
11. Rui Andrade – Amor A Preto E Branco (Miguel Majer & Inês Vaz)
12. Filipa Sousa – Vida Minha (Andrej Babic & Carlos Coelho)
The songs were in varying styles, including pop and the traditional Fado, the traditional Portuguese song of tragedy. The Fado has recently been added to UNESCO's World Heritage list.
Vida Minha started strongly, gaining g top marks from the first four juries and, despite a couple of setbacks, maintained a strong lead throughout the jury voting. After all the juries had voted, Filipa had a 46 point lead. However, would the televote change everything? The short answer is no! in fact, another maximum points sealed the deal and Portugal will be represented by Filipa Sousa singing Vida Minha, a beautiful Portuguese Fado.
Filipa will sing in the second semi-final.