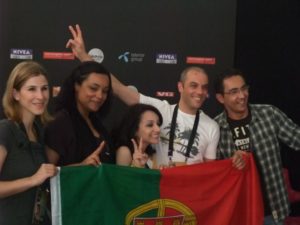 Filipa Azevedo was pleased with her performance of Há Dias Assim
at the 2nd rehearsal for Portugal at the 2010 Eurovision Song Contest. 
Filipa said she could feel the magic on stage and is looking forward to performing at the first semi final on 25 May 2010.
The composer of the song, Augusto Madureira, advised that when he first heard Filipa's voice, he knew instantly that he wanted her to sing his song for Eurovision.
Filipa was asked what she will be wearing at the semi final.  She said she will have a long elegant dress and she will feel like a princess.
Since the first rehearsal Filipa and the Portuguese delegation have been doing some sightseeing around Oslo and also making lots of new friends in the Euroclub.
Filipa sang a little of one of her favourite songs by Sara Tavares, Chamar A Musica, and she also sang a few words of the English version of her 2010 Eurovision entry called It's One Of Those Days.