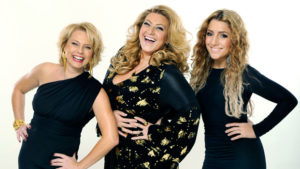 Helena Bergström, Sarah Dawn Finer and Gina Dirawi are the three women that SVT announced will be the hosts of Melodifestivalen – the swedish national selection for the Eurovision song contest that will be broadcasted six Saturdays this winter. There are also some new rumours about possible participants for next years competition.
Christer Björkman, the producer of Melodifestivalen, tells us that the female trio was a dream scenario for SVT when they started the search of who that should lead the popular show. Humour, warmth, courage and glamour is what to be expected from the three according to Christer.
Sarah Dawn Finer had her breakthrough to a wider audience when she participated in Melodifestivalen 2007 and came fourth with the song ballad I Remember Love and she came sixth in the big ballad Moving on from 2008. She will be the only of the three hosts that will be seen in all of the six programmes that Melodifestivalen constists of.
Helena Bergström is one of Swedens most well known actresses and also a film & theatre director. The choice of Helena comes as a rather big surprise to most people.
Gina Dirawi is a blogger and a host of her own show "The Ana Gina Show".
What all three have in common is that they are all unwritten cards when it comes to leading TV-shows.
The latest rumours when it comes to participants in the contest is that Magnus Carlsson (participant in MF both as a singer and also as a former member of Alcazar) and Sonja Aldén (Etymón 2006 and För att du finns 2007) both are said to be making a comback in the competition. Another rumour that has been floating around for a while is that Charlotte Perrelli will be back with a song written by Fredrik Kempe (who wrote Hero and this years swedish entry Popular).