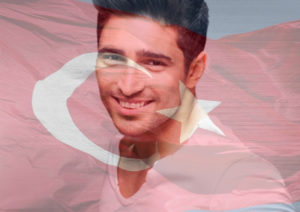 Farid Mammadov will be visiting Turkey tomorrow as part of his promotional tour. Having released a Turkish version of his Eurovision Song Contest entry, he is prepared to meet the Turkish fans that are keeping the interest high despite not participating this year. 
Turkey is not participating in this year's Eurovision Song Contest, but still they're not apart from Eurovision-related events. First, Alyona Lanskaya from Belarus came to Istanbul in order to shoot the music video of her song, Solayoh. This time, Farid Mammadov, this year's Azerbaijani representative, is on his way to Turkey to promote his song. Before his arrival in Istanbul, he shared the Turkish version of Hold Me with his fans.
The Turkish language has the same origin as the Azerbaijani language, as they both belong to Turkic language family. The two languages closely resemble each other. The release of the Turkish version of Hold Me was a kind gesture for the Eurovision fans from Turkey, who were desperate after TRT having withdrawn from the 2013 edition of Eurovision Song Contest.

You may also want to read:
Below, you can listen to the Turkish version of Hold Me: