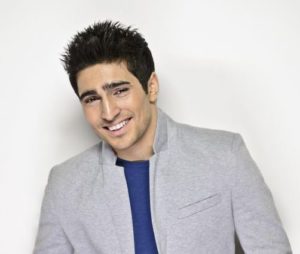 Farid Mamedov is just 21 years old, but he managed to charmed the
Azerbaijani audience during the national selection with his strong vocal. Farid
was born in Baku. He is currently a student of the Azerbaijan State University
of culture and Arts. Meantime he is singing in Baku Jazz Center, the same as Sabina Babayeva, who represented Azerbaijan at last year's Eurovision Song Contest. From the early ages,
Farid Mammadov sang in the Bulbul ensemble managed by Aybaniz Hashimova. For a
long time he was a soloist of this ensemble.
For years Farid has been inspired by Jazz, pop, soul music
and the main one being Mugham. Mugham is traditional Azerbaijani folk music which
reflects the good vocal art of a singer. It can be said that Farid's professional
music career began at the age of eight when he was asked by his vocal teacher
to sing I Just Called to Say I Love You by Steve Wonder at his very first
concert. His performance was a huge hit and since then Steve Wonder has been a really huge influence on his musical development. At the same time Farid is very
talented in writing songs. He even performed on the stage his own song Gel
Yanima (Come to Me) in the national selection which is popular in Azerbaijani
audience.
They say that the
talented people are talented in everything. The same is the case with Farid who has much
passion doing sport. He used to participate in freestyle wrestling and
Brazilian martial art capoeira it is obvious that he inherited his talent by
his family. His father used be good Judaist, played keyboards in a rock band
and singing, his mother was awarded with silver medalist for the Soviet Union in
gymnastics and she is still playing piano. By his young age he has much
experience by participating in famous music bands in Azerbaijan such as Nightingales
(Bülbüllər) and Eastern Stars (Şərq ulduzları). Farid was very lucky to work with
very famous Azerbaijani singers such as Aybeniz Hashimova and Vagif Gerayzade.
Gaining much experience in music he became solo singer.
It has been always
Farid's dream to sing on the Eurovision Song Contest Stage. Farid participated and
passed casting for the international music talent show The Big Stage. This Azerbaijani
big project included top-rated producers, songwriters, and choreographers from
USA, UK, Greece, Sweden, and Ukraine. They were working together in order to
polish and help to develop skills and talent for new upcoming singers. In this
project Farid met Dimitrios Kontopoulos the composer of the song Hold Me and
gained his attention by being charismatic and as a good vocalist singer. Farid
says that he was waiting for the right time for him to participate in the national
selection, which then turned out to be this year where he will now represent Azerbaijan at the Eurovision Song Contest in May.
Participant Profile
In the semi final