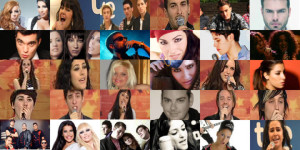 Auditions had been characterised for the diversity of artists that had applied for being the Spanish representative in Düsseldorf. Among the 30 pre-candidates now selected, only 24 of them will participate on the galas where the Spanish audience will choose the performer and the definitive song.
A few weeks ago, the final auditions took place in Barcelona, and now we know the 30 candidates who are seeking to represent Spain in the Eurovision Song Contest.
Among the 30 candidates, we can find some familiar faces of previous participants in the Spanish national selections who are back this year like Sonia and Selena, Alazan and Esmeralda Grao. There are also several singers known for their participation in other musical television shows for young talent like María López, Alba Lucía and Sometimes. But among the candidates, there are also many unknown faces and groups like Da Igual, Sunami and Auryn, who are having big support from the young audience.
Spanish public broadcaster, RTVE, and Gestmusic, who is producing the galas, have not confirmed the dates of the Spanish national selection yet, but they are starting to promote the Eurovision selection process with a promo video. On this video, it has been mentioned that 30 singers will participate in the televised galas, so it seems that RTVE will use the right to invite established artists to take part in the selection as wildcards and it becomes clear that there will be six of them. It remains to be seen who they are.
Up to now, these are the 30 selected performers:
1.    Alazan
2.    Alba Lucía
3.    Auryn
4.    Baltanás
5.    Da Igual
6.    Dani Aleman
7.    David Sancho
8.    Divas
9.    Don Johnson's
10.  Esmeralda Grao
11.  Fernando Hidalgo
12.  Guadiana
13.  Las Miranda
14.  Lorena Rosales
15.  Lucía Pérez
16.  Lussi Bom
17.  María López
18.  Melissa
19.  Mónica Guech
20.  Paula
21.  Pau Quero
22.  Rocío Jiménez
23.  Sebas
24.  Sergi Albert
25.  Sergio Bermego (Gio)
26.  Sometimes
27.  Sonia and Selena
28.  Sunami
29.  Valeria Antonella
30.  We