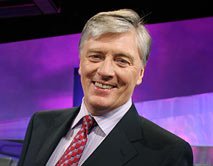 1988 Eurovision co-host Pat Kenny has been involved in a high court case for the last week.  The case was taken by Kenny's neighbour of 20 years, Gerard Charlton, who was seeking the court to ratify his ownership of a 0.2 acre patch of land beside Mr. Kenny's house. 
Pat Kenny, who has hosted several Irish national finals as well as the contest itself, was claiming squatters rights because he and his wife Kathy had possession of the land for the 12 years required by Irish law.
The presiding judge pleaded with both sides to come to a amicable compromise in mediation.  Both parties came to the resolution that Mr. Kenny would buy the rocky outcrop from his neighbour for a rumoured €2million.