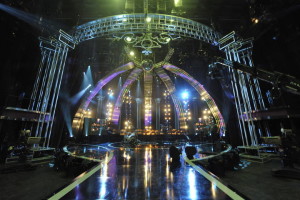 Within a matter of hours the first show of Destino Eurovisión is going to start. The twelve participants will perform hits from the Eurovision Song Contest. You can watch it tonight at 22:15 CET on TVE-1 where the artists will sing songs like Fly On The Wings Of Love, Wild Dances and Non Ho L'Età and of course several Spanish entries.
Twelve candidates, half of the selected ones, will battle to become one of the five singers to qualify for the semifinal. The first rehearsal on the spectacular stage took place yesterday and everything is ready for an evening full of surprises for the viewers.
The list of the singers to compete in the first Spanish heat and the songs that they are going to perform is as follows:
Auryn: Fly On The Wings Of Love (performed by The Olsen Brothers and winner of the 2000 Eurovision Song Contest representing Denmark)
Baltanás: Fairytale (performed by Alexander Rybak and winner of the 2009 Eurovision Song Contest representing Norway)
Da Igual: Bailar Pegados (performed by Sergio Dalma in 1991)
David Sancho: Estando Contigo (performed by Conchita Bautista and winner of the 1961 Eurovision Song Contest representing Spain)
Gio: Satellite (performed by Lena and winner of the 2010 Eurovision Song Contest representing Germany)
Guadiana: Ne Partez Pas Sans Moi (performed by Celine Dion and winner of the 1988 Eurovision Song Contest representing Switzerland)
Las Miranda: Ding-A-Dong (performed by Teach-In and winner of the 1975 Eurovision Song Contest representing the Netherlands)
Lucía Pérez: Non Ho L'Età (performed by Giglíola Cinquetti and winner of the 1964 Eurovision Song Contest representing Italy)
María López: Vuelve Conmigo (performed by Anabel Conde in 1995)
Paula Marengo: Tu Te Reconnaîtras (performed by Anne-Marie David and winner of the 1973 Eurovision Song Contest representing Luxembourg)
Roima Durán: Wild Dances (performed by Ruslana and winner of the 2004 Eurovision Song Contest representing Ukraine)
Sunami: Gwendoline (performed by Julio Iglesias in 1970)
The show, that will take place in San Cugat del Vallés (Barcelona), will be presented once again by Anne Igartiburu, and Daniel Diges, 2010 Spanish representative, who will be reporting from backstage. There will be a four-member jury, with an important role, composed by the singer and songwriter Albert Hammond, Eurovision Song Contest expert Reyes del Amor, popular television personality Boris Izaguirre and the singer and songwriter Merche.
You can watch the show tonight, at 10:15 CET, live on TVE-1 or through the official webcast