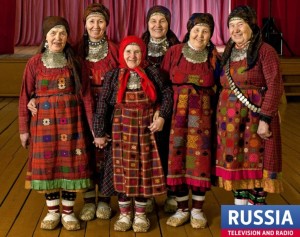 The most anticipated rehearsal of today was that for six Russian grannies.  And today we were not disappointed as they brought a smile to everyone's faces.
The Babushki were guaranteed a large crowd when they took the Crystal Hall stage for the first time today.  In areas the press were three-deep watching this performance.  Russia has entered a song with no Russian in it at all, and Udmurt is a Finno-Ugric language.  But if you've ever owned a Matrioshka doll, you'll immediately associate this song with Russia.
The grannies are, naturally, in the costumes they'll be wearing on the night.  That is red, heavily-decorated dresses, birch bark shoes and necklaces made of coins.  The stage performance has changed slightly from the national final.  They still have the bread oven on stage and it revolves.  This time four of the grannies start sat near it and the other two place some dough in the oven.  They all then get up and stand in a line and sing the song.
Towards the end of the song, they fetch the bread out of the oven and pass it around.  They also dance with each other.  The overall impression is the best thing we've seen today.  It all works.  They've made the most of the camera work, they tell the story of welcoming children home brilliantly and it could do very, very well.  On what we've seen so far, this will win the first semi-final.
Stay tuned to Eurovisionary for when the Babushki rehearse again later this week.