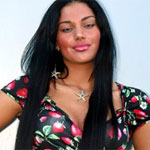 Eva Rivas, a 22-year old talented lady, who represents Armenia in the Eurovision Song Contest this year, has launched a new website and blog for her fans to follow her latest news.
As you will remember from EuroVisionary news, talented young Armenian Eva Rivas won the national final in her country to be the representative of Armenia at the Eurovision Song Contest which will be held in Oslo this year.
Yesterday, Eva Rivas offically launched her own website and blog for her fans to follow up her latest news. It is also expected that Eva's promo tour was kicked off with launching new websites. You can reach her website by clicking here with English, Russian and Armenian language options and you can also reach her blog by clicking here.
Armenia joined the Eurovision Song Contest in 2006 and has always had good placings, finishing in the top ten at the Contest. Eva will perform in the second semi-final this year.