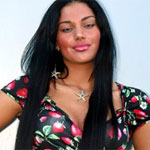 Tonight, Armenia chose its representative for the 55th Eurovision Song Contest, which will be held in Oslo this year. Nine acts fought it out to take the ticket to Oslo and Eva Rivas emerged victorious. 
Armenian national broadcaster ARMTV held the country's national final to choose a representative to present Armenian music to the world at the Eurovision Song Contest 2010.
The show was broadcast by ARMTV's Channel 1 and was also able to be watched via internet and satelitte. 
It was announced that ten participiants would perform on stage but as reported by EuroVisionary.com one song seemed to borrow heavily from two others and the artist decided to withdraw from the competition.
In total nine competetor presented their entry tonight:
Another Story – Ays dzmer (This winter) (Music & Lyrics: A. Sargsyan): Another Story is a rock group who are becoming more and more popular in Armenia day by day. Tonight's opening song, Ays Dzmer, could be the winning song but there was no difference from an ordinary rock song.
Ani Arzumanyan – The Mermaid song (Music & Lyrics: A. Nersisyan): Ani's song was one of the popular song for the Eurovision Song Contest. Ani and her orchestra dressed in traditional clothes and performed an ethic song.
Meline Beglaryan – We must believe (Music & Lyrics: M. Beglaryan): Meline performed the ballad of the night and that couldn't have gotten a better reaction from the audience.
Emmy & Mihran – Hey (Let me hear you say) (Music & Lyrics: V. Ter-Yeghishyan/M. Kirakosyan): Emmy & Mihran had named for the Eurovision Song Contest before national final date was announced. The duo is very popular in Armenia and it is known that popular singer Ricky Martin is supporting them. They also gave a great performance tonight.
David Ashotyan – Infected dreams (Music & Lyrics: D. Ashotyan): David's song is in a new rock style with ballad elements. He did well on stage alone even thought he was not one of the favourites tonight.
Nick Egibyan – Countdown (Music & Lyrics: N. Egibyan): Nick seemed like a children's coloured milk with those strange clothes but he had a good combination of dance with his pop.
Maria Kizirian – Little Red Riding Hood (Music & Lyrics: M. Kizirian): Maria was one of the top names who could go to the contest before the finalists were revealed. She performed an up-tempo song and that performance received a good reaction.
Razmik Amyan – My love (Music: V. Petrosyan/ Lyrics: V. Zadoyan): Razmik Amyan who is also popular in Armenia, he had an up tempo song which included ethic elements. This could also win!
Eva Rivas – Apricot stone (Music: A. Martirosyan/ Lyrics: K. Kavaleryan): Last performer of the night was Eva Rivas. Eva was not the top favourite but her great performance could change everything. Eva Rivas won an Armenian Emmy Award in 2009. Her song began as a ballad and then turned into an up-tempo song.  
The final results will be announced after total votes from jury and televoting are combined (50/50). According to results, Eva Rivas will be representing Armenia at the Eurovision Song Contest this year on Oslo.
You can watch the promo video of Eva Rivas' Apricot Stone below: