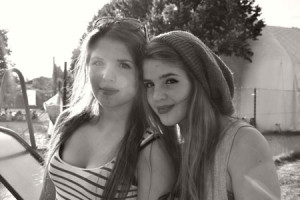 Eva & Prusnik were finalists in the 2012 Misija Evrovizija and EMA competition.  Now they are official ambassadors for the Slovenian Youth On The Move organisation.
Eva & Nika are very proud to represent their country with the Youth On The Move project.  It has always been their dream to help other people and learn the importance of knowledge and experience.  They want to travel abroad and spread the word and help people achieve various goals in life.
They will also try to emphasise to the youth how important it is to gain experience and become responsible and independent in life. They also want to make aware that opportunities and dreams can be realised by youth from unstable environments too.  They want to shorten the boundaries of people who are wealthy and not so wealthy. 
Eva & Nika will perform around Slovenia and work with musicians from the USA with this project.
The girls achieved great success in the Misija Evrovizija competition to find the act to represent Slovenia at the 2012 Eurovision Song Contest.  They went all the way to the final.  The girls are unique and their general enthusiasm has also made them very popular.
You can see Eva & Nika performing Lena's 2010 Eurovision winner, Satellite, below.