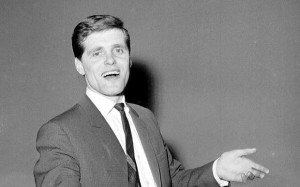 Tributes have been paid following the death of the United Kingdom's two time Eurovision representative Ronnie Carroll. At the age of 80 he was due to run as an independent candidate in the Hampstead & Kilburn Parliamentary constituency in the upcoming general election in Britain as The Eurovisionary Carroll.
He was born Ronnie Cleghorn on August 18th 1934 in East Belfast. He was the son of a plumber and the family struggled to make ends meat. His singing was first recognised in a talent show where he sung the songs of Nat King Cole and he toured in this guise with The Hollywood Doubles Show and due to using paint to change his skin colour for the act he earned the nickname; Minstrel.
Following these early works he appeared on BBC televisions talent show Camera One, receiving a positive response and was signed to Phillips as a recording artist. Plenty airplay followed and it was at this time that he was booked and appeared on the programmes of Kathy Kirby, Morecombe and Wise and Sir Bruce Forsyth. This on camera performing clearly helped him when it came to his Eurovision experience that was to come.
In 1956 his first song to be considered a hit was the song Walk Hand in Hand which charted at number 13, the next year he released The Wisdom of a Fool, which broke into the top 20. Throughout the rest of the 50's and up to 1962 he tried and tried but didn't manage a big hit until his cover of a US hit Roses are Red (My Love) which made it to number 3 on the hit parade. That was to be his best chart placing and was in was before his Eurovision appearances.
In 1962 Ronnie was picked in A Song For Europe to represent the UK at the 7th Eurovision, held in Luxembourg. Ring-a-Ding Girl managed to finish 4th on the night and made it to 46 on the British chart. The following year going by the same selection process he was selected and this time sung for the UK in the contest at BBC Television Centre in 1963. The entry Say Wonderful Things managed to match his previous effort and also finished 4th behind that years winner Denmark. That song was a number 6 hit in Britain.
In the new millennium he was quoted as not having held much affection for Eurovision. "Most of the music [in Eurovision] is rubbish,", "and it always was – even when I was in it." "Now you have the most ridiculous acts in the world going on, whereas in my day it was people who could sing. Now it's horses, monkeys and performing dogs."

As much as he tried, further success in music seemed to elude Ronnie and so he went on to make many dramatic turns in his life. His first marriage to singer Millicent Martin broke down in 1965 and he is reported to have hit the bottle at this time and off and on had many destructive years.
After marrying his second wife June Paul they headed to the Caribbean island of Grenada in 72 to run a nightclub. They returned to Britain before too long having lost everything being declared bankrupt in 1974. At that time his assets amounted to just £2 and he had debts of £9,210.
From there he took work singing at holiday camps and ran a food stall with his second wife June at the newly opened Camden Market. He divorced June and married a third time. He remained married to Glenda Kentridge until 1994.
While his music career was no longer a viable means to a living he made strides to enter into a life of politics. His first attempt was in 1997 under the banner of the Emerald Rainbow Islands Dream Ticket party. His goal was to get into the record books for the lowest votes recorded ever. However for him he ended up disappointingly earning 141 votes, meaning that he wasn't in the running to earn the record in mind as that tally was many more than the lowest previous number.
Flash forward to 2005 and Ronnie planned to stand in 50 constituencies, to qualify for a party election broadcast on the television screens of Britain. However this wasn't possible and his name appeared only on the ballot paper in Belfast.
He next stood in the 2008 Haltemprice and Howden by election, receiving 29 votes as the Make Politicians History candidate – still well above the lowest ever polled.
His close political colleague was Rainbow George Weiss, a Hampstead based neighbour. It was Weiss who handed in the current nomination papers for the seat of Hampstead and Kilburn at the upcoming general election when Carroll was too ill to complete the task in person. He will appear as the "Euro-visionary" candidate on the ballot for the London constituency of Hamstead and Kilburn next moth despite his untimely death. In keeping with the rules and laws he could technically win the vote.
Ronnie passed away on Monday following a short illness at the age of 80. His death was headline news on the BBC on Tuesday morning.
Ronnie is survived by Luke and Jamie; his children with second wife June, and by Chloe and Harry; his children with third wife Glenda.
Both Ronnie's appearances in Eurovision appear below