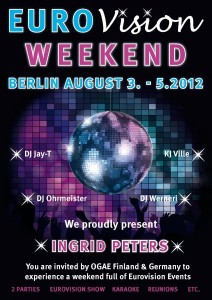 A big Eurovision event is coming up in Berlin. From Friday, August 3rd until Sunday, August 5th fans from all over Europe are invited by the German and Finnish fan clubs to enjoy a varied programme consisting of parties, reunions and concerts of former Eurovision participants.
For the first time Berlin will be host of a Eurovision weekend. The German fan clubs OGAE and EC Germany as well as OGAE Finland organize a big Eurovision event in the German capital. The programme's highlight will be a show on Saturday evening where Ingrid Peters and Pernilla Karlsson will perform. Ingrid Peters represented Germany at the Eurovision Song Contest in Bergen in 1986 and finished 8th with Über die Brücke geh'n. Pernilla Karlsson participated in this year's Eurovision Song Contest in Baku with När jag blunder. She failed to reach the final for her home country Finland, but still was very popular among the fans. As a very special guest of honour the first ever Eurovision winner Lys Assia accepted the invitation and will enrich the event with her attendance.
Furthermore there will be two parties with well-known Eurovision DJs (DJ Ohrmeister, DJ Werneri and DJ Jay-T), karaoke, a record fair and a lot more.
Tickets for the programme are available at 32€. This price includes a ticket for all three days. For further information please contact [email protected] or visit one of the below mentioned websites:
www.ecgermany.de
www.ogae.de
Facebook: EUROVISION WEEKEND / Facebook group "Grand Prix und Eurovision Song Contest Fans Berlin"