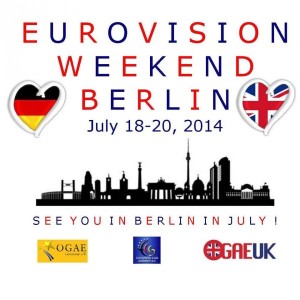 For the third time after 2012 and 2013 the Berlin Eurovision Weekend will take place. From July 18th till July 20th dedicated members from OGAE Germany and EC Germany will organize the event in the German capital. This year the partner fanclub and co-host will be OGAE UK.
From July 18th till July 20th the Berlin Eurovision Weekend will take place for the third time. After organizing the event together with OGAE Finland in 2012 and OGAE Israel in 2013 the German hosts will cooperate with OGAE UK this year. Fans from all over Europe will come together to celebrate, party and enjoy performances of three well-known Eurovision artists. It has become a tradition that one artist comes from Germany, one from the country of the co-hosting OGAE club and one artist from the last edition of the Eurovision Song Contest.
This year the line up is as following:
Corinna May who represented Germany at the 2002 Eurovision Song Contest in Tallinn with I can't live without music. In 1999 she already won the German final, but her song Hör den Kindern einfach zu was disqualified a few days later as it had been released before. In 2000 she was the runner-up behind Stefan Raab with I believe in God.
Scott Fitzgerald who represented the United Kingdom in Dublin in 1988. His ballad Go finished second, only one point behind Celine Dion.
Suzy who was this year's fan favourite in Copenhagen and failed by only one point to bring Portugal back to the Eurovision final.
The Eurovision Weekend already starts on Friday night with a welcome party including karaoke and a dancefloor.
On Saturday night there is the big Eurovision Gala featuring performances of Scott Fitzgerald and Suzy followed by a party afterwards.
On Sunday there is a German-British brunch with the performance of Corinna May and a Eurovision Quiz.
Tickets are still available for a price of 36€ including the whole programme (welcome party, gala and brunch).
For more information please click here.