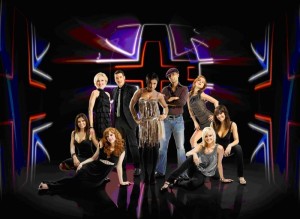 Today, the BBC announced details of the show which will choose the song to represent the UK at this year's contest in Belgrade.
On Saturday 1st March, six acts will compete in three categories with one from each going through with a wildcard to the second show. The songs which go through will be decided by a panel of three judges, including Terry Wogan, who will have the casting vote if needed.
Soloists
Michelle Gayle – Woo (U Make Me). Michelle is well known to the British public through her part in Eastenders and her top ten hits. She describes her song, which was co-written with Morten Schjolin and Rashelle Davies, as "pop in essence, but with a very cool 60's vibe to it."
Andy Abraham – Even If. While he was working as a dustman, Andy came to the fore thanks to ITV's popular Saturday night show 'X-Factor'. He has since released two albums. The song was written by himself, Andy Watkins and Paul Wilson. According to Andy, 'Even If' is "a funky love-song about a guy who's found genuine love with a girl who wants to reassure her she won't mess him about."
Groups
Loveshy – Mr. Gorgeous. Loveshy (Aimee Kearsley and Emma Beard) have been together since 2002. They wrote the song with Oscar Gorres and Teresia Bjarneby and say it's more about lust than love.
The Revelations – It's You.  Annika, Sarah and Louise have been together since 2005. They describe their sound as modern Motown with a slight Abba influence. They are all working hard to achieve their big break but in the meantime are still holding down jobs. Of the song, they say "It's You has the right ingredients of a winning song because it's genuinely a good tune." The song was written by Adam Howarth.
Joseph v Maria
Rob McVeigh – I Owe It All To You. Rob was one of the aspiring Josephs in the BBC show 'Any Dream Will Do' in which the public choose the lead role in Andrew Lloyd Webber's 'Joseph' musical. He says the song is a thank you for the opportunity the show gave him. "It is a song I can relate to and I see every word as a thank you to the public and Andrew Lloyd Webber for giving me this opportunity. It is a big rock ballad with some great lyrics which can be sung with true meaning and real emotion. The title 'I Owe It All To You' is like a thank you to the public for putting me where I am today from Any Dream Will Do."  The song was written by Paul Barry and Mark Read.
Simona Armstrong – Changes. Romanian born Simona was contestant on another of the BBC's musical 'search for a lead' shows 'How Do You Solve a Problem like Maria' in which the public choose the lead in another Lloyd Webber show 'The Sound of Music'.  Simona says of the song "It's about keeping your head held high as we try to adapt to the changes and challenges that surround us. It's about keeping positive." The song was written for her by Simon Ellis, Emma McGettrick, Mari Loretzen, Eleanor Wilson and Caroline Reed.
In the second show, the format follows closely the one used in the final stages last year. Two of the four acts will be eliminated in a public vote, leaving the public to choose between the remaining two.
Links
BBC Eurovision site
Michelle Gayle's myspace site
Andy Abraham's myspace site
Loveshy's myspace site
The Revelations' myspace site
In my view
It's a shame that my country seems unable to take advantage of the fame of its singers and send someone who is well known in Europe. Instead, we have a contest in which half of the acts are talent show wannabees. Still, it's the song that counts and at least there is a performance pedigree in those acts and Michelle. The girl groups are unknown quantities and I hope they are capable of giving a good live performance.

It seems the BBC have learnt from last year when the worst song won, and have taken away some of the power of the voting public. A sensible move… if the panel is made up of people with taste.

The opinion expressed in "In my view" are those of the author and are not necessarily the one of EuroVisionary.com.