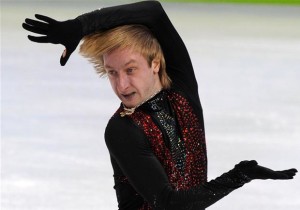 Russian figure skater Evgeny Plushenko, who accompanied Dima Bilan on stage when he won the Eurovision Song Contest in 2008, won silver last night at the 2010 Winter Olympics held in Canada. He is however not at all satisfied and speculations already have started that he was deliberately robbed from the gold.
It was Evgeny Plushenko third participation at the Winter Olympics. In 2002 he won silver, in 2006 gold and now again silver in 2010. He is three time world champion and six time European champion and when he was on stage in the Eurovision Song Contest in Belgrade he had already stopped his career. Last year he however announced that he would come back in order to bring back the gold medal from the Winter Olympics in Vancouver, Canada.
Evgeny did do extremely well at the competition that took place the night between Thursday the 18th and Friday the 19th of February, but according to himself then he lost because figure skating is a conservative sport where it is not popular to develop and move forward. Others consider it robbery and is wondering just how much the Americans paid in order for Evan Lysacek to win the gold medal instead.
Russian Prime minister Vladimir Putin is comforting Evgeny in a letter which has been published on the Russian government's website: "Receive my deeply felt wishes with your extraordinary performance at the Winter Olympics.  Your silver medal was a gold medal worthy".
Below you can see a video where Evgeny Plushenko talks about the silver medal and why he thinks he deserved better. The video has been dubbed in English.