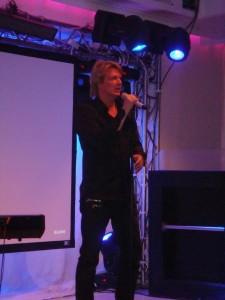 OGAE Sweden and the fan-site gylleneskor.se organised an amazing Eurovision party in Stockholm on Saturday night. EuroVisionary were there to report from the event.
About 60 fans gathered at the club Ambassadeur in Stockholm. During the lovely dinner, two girls from OGAE Sweden, Linda and Ylva Persson performed a number of hits from Melodifestivalen and Eurovision Song Contest. Just to mention a few they sang Charlotte Nilsson's Take Me to Your Heaven from 1999, as well as her song Hero from 2008, Alcazar's hit Not a Sinner nor a Saint and  Linda Bengtzing's and Markoolio's hit Värsta Schlagern.
When the broadcast started, needless to say there was a lot of tension in the air. But you can't say anything else than that the Swedish fans knows how to party, the fans where singing, dancing and standing on their chairs cheering for the whole show. Not unexpectedly, it was the up-tempo songs like This is our Night, Always and Hora din Moldova that made the fans cheer and dance the most. But also Yohanna from Iceland made the viewers in the club cheer a lot. It was a real good atmosphere the entire night. Among the viewers EuroVisionary spotted Sibel who participated in Melodifestivalen 2008 with the song That is Where I'll Go.
During the recap of the songs, former Melodifestivalen participant Tommy Nilsson (1989 and 2007) performed for the fans. After that, the voting started. The last couple of years Sweden has had really bad rankings/result in the contest and the fans were really eager to finally restore our reputation. But when the voting started it was soon obvious that that would not be the case. The atmosphere was low spirited for a while but as good neighbours, we were happy for Norway and of course for Swedish Arash who is competing for Azerbaijan, and finished third. Sweden finally finished as 21st country.
After the voting, Linda and Ylva performed again, and then the fans celebrated the victory of Norway by dancing to hits from Melodifestivalen and Eurovision Song Contest. In the early morning it was time for the fans to split, until next year when the season starts again.
Below you can see Tommy Nilsson perform his 1989 Eurovision Song Contest entry, En Dag, live from the party.