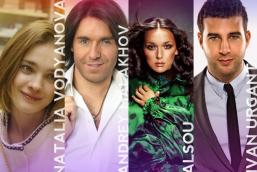 Finally the Russian broadcaster, Channel One, who will also broadcast the contest, has announced the hosts of the Eurovision Song Contest 2009. Natalia Vodyanova, Andrey Malakhov, Alsou and Ivan Urgant will be the hosts of the great event this year.
This year, the Eurovision Song Contest will have four different hosts for the first time ever. Russian broadcaster, Channel One, has finally announced the names when there are only four days to go before the start of this year's biggest entertainment show in Europe.
According to the Russian broadcaster, Natalia Vodyana and Andrey Malakhov will be presenting the show during semifinals which will be held on 12 & 14th May, next week.
Natalia Vodyana is one of highly rated London-based Russian model who has worked with famous brands such as Calvin Klein. She is also famous for her cat-walks.
Andrey Malakhov is known as a stylish presenter on Russian tv station, Channel One. He used to be a journalist and has previously hosted morning shows and late night talk shows on the same channel.
The final of the Eurovision Song Contest 2009 will be hosted by two more famous names; Alsou and Ivan Urgant.
Alsou is a well-known singer who took part in the Eurovision Song Contest in 2002. She came 2nd at that year with her song Solo. It is also known that she has worked with world famous singers such as Enrique Iglesias, Bon Jovi and Nelly.
Ivan Urgant is known as an actor and presenter in Russia. He has been seen on many tv shows as the host in Russia. Now he is presenting some reality and comedy shows on Channel One. He was the winner of the television broadcasters' award.
As has become traditional, the show will be presented in English and French by these four hosts in accordance with EBU rules, so we will be watching the show in at least two languages this year too.