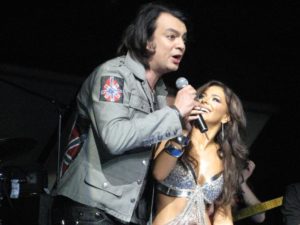 Ukraine has revealed its selection process for the 2012 Eurovision Song Contest – a talent show developed by Freemantle media – the company famous for its incredibly popular American Idol show, which spawned copies in many countries around the world. Well known names Fhilip Kirkorov and Ani Lorak will be involved.   
It's reported that Freemantle has developed a brand new concept for the show, but considering the aim is to select a winning singer it will be interesting to see just how different it really is from Idol.
The competition will involve over 100 hopefuls who dream of representing Ukraine at the Eurovision Song Contest in 2012.
Controversial singer Philip Kirkorov, who came 17th in the 1995 contest representing Russia, will host the show. He also wrote the Belarussian entry Work Your Magic from 2007 as well as Shady Lady from Ukraine 2008. Philip has had a long and colourful career in the music business and has been closely associated with the Eurovision Song Contest. Controversy dogged him when he had to resign as the head of the Russian jury in 2009 after he was seen befriending the Norwegian and Greek entries. This behaviour was considered a conflict of interest and called into question his independence as a judge, forcing him to resign from the position.
Co-hosting will be Ani Lorak, a popular Ukranian singer who represented her country at the Eurovision Song Contest in 2008 with the song Shady Lady (as mentioned above written by Philip), coming second with 230 points. Ani Lorak is the singer's stage name, which is her real name Karolina in reverse.
www.youtube.com/watch?v=P8FbpoSLk2E
www.youtube.com/watch?v=QvzacItGYwA
Links