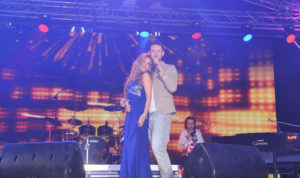 The Azerbaijani fan club had arranged a big concert in Baku for Sunday evening. The well attended concert inpressed the audience by the many invited Eurovision Song Contest celebrities and various presents from the fan club.
On April the 29th the concert arranged by the Eurovision Fan Club in Azerbaijan was held open air in National Seaside Park. Feel the spirit of Eurovision – that was the main theme at this concert in Baku with the aim to increase the interest for the Eurovision Song Contest.

Safura Alizadeh, who came 5th represented Azerbaijan at the 2010 Eurovision Song Contest, set the start for the concert. She was then followed by Anri Jokhadze, the Georgian representative this year, who declared that he is honored to be in Baku again. The famous singer and composer Emin Agalarov also perfomed some of his fascinating songs – he is mentioned to be the interval act for the final of the Eurovision Song Contest the 26th of May.
A storm of applause reached Ell & Nikki as they walked out on the stage. The representative of Ukraine 2008 Ani Lorak as well as famous Russian singer Diana Gurckaya (Georgia-2008) also performed at the stage. The host of the concert was the famous show-man Murad Dadashov.
Different presents were distributed among the audience. Foreign singers at the fan-club concert such as Ani Lorak, Anri Jokhadze and Diana Gurckaya expressed their fascination with the outstanding view to the sea. Each of them was also impressed with the hospitality of the Azerbaijani audience and was admired with the beauty of Baku City, the city that in just a few weeks will welcome participants, journalists and fans from all over the world.
Below you can see a short atmosphere video from the concert.  
In my view
That was the great concert which inspired people on the last few days left to the Eurovision 2012

The opinion expressed in "In my view" are those of the author and are not necessarily the one of EuroVisionary.com.