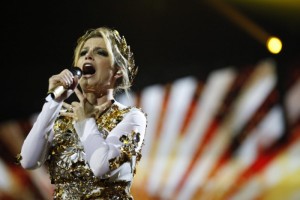 Emma from Italy rocked the stage for her second rehearsal of La Mia Città at B & W Hallerne in Copenhagen. She looked very glamourous as she pumped out this high energy rock song and the stage looked very effective with flashing and colourful images. 
Emma was joined on the stage by a four piece male band consisting of two guitarists, keyboard player and drummer.
Emma was wearing a short white dress with gold and silver glittery flowers. She began wearing a hood and removed it when the song builds in to a rock pop song. Her hair is tied up with a beautiful gold and silver laurel wreath.
The stage background and floor is mainly white with flashing images of Emma's face and eyes and colours of black and grey. Strobe lighting is used and the overall set and performance looks very eye catching.
Emma commands the stage as she struts around and belts out this rock classic. At one point she is crawling on the floor and she moves between the band showcasing her fine vocals. She finishes the song lying on the stage floor.
This was a great performance and Emma will rock Europe with her show on Saturday night.