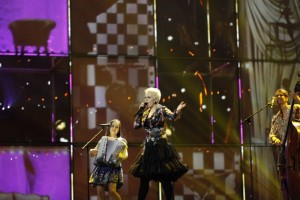 Elaiza had their second rehearsal at the B&W Hallerne for Is It Right. The female trio gave a confident and solid performance and they looked happy and smiling on the stage. Lead vocalist, Ela, gave a fine vocal performance.
Elaiza's enthusiasm and happiness was captured in the performance. The three girls connected well with the cameras and they gave a very good overall show.
The girls were all dressed differently. Lead singer Ela was wearing a flowered jacket and black flared skirt. The accordion player, Yvonne, was wearing a blue dress and contrabass player, Natalie, was wearing a white and yellow flowered dress.
The stage background was mainly a purple colour with also red and yellow images. There was also images of a circus. The stage floor resembled a chessboard. There was falling paper streams used in the stage show too.
Elaiza gave an overall confident performance and the girls stage presence and confidence is reflected well. Is It Right? Well it may well be.