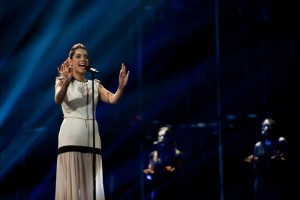 Ruth Lorenzo took to the stage for Spain's first rehearsal for her song, Dancing In The Rain. Her strong and powerful vocals were prominent and she looked elegant and owned the stage.
Ruth Lorenzo was at the centre of the stage as she charmed the camera with her elegant style and she produced a very confident vocal performance. The former X Factor UK contestant effortlessly gave a lot in all the run throughs and there is a feeling she can produce even more on the big night on Saturday.
Ruth looks very charming in her long white dress and she accompanied by four girl backing singers, who stand at the right side of the stage.
The stage and the background look beautiful with heavy rain images and the raindrops hit the floor and we are all ready for Dancing In The Rain. The background is a vivid blue with some black on display. There is effective use of strobe lighting and the whole performance and the set look very beautiful on the eyes.
Will Ruth's performance take Spain to a good position in the final? If these first rehearsal run throughs are anything to by she could well connect with the viewers and gain many votes.