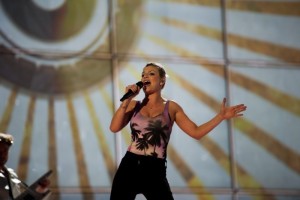 The fifth participant to go on stage for the first rehearsal today was Emma Marrone with her song La Mia Città. Emma is a well known artist in Italy and there is no question about her vocal capabilities as she has a tremendous strong presence on stage.
Emma Marrone owned the stage all through the runs of her first rehearsal. She was clad in a colourful yellow and blue jacket which clearly she will not be wearing on the night after she removed it following the first run. Joining her on stage there were two guitarists, a drummer, a backing vocalist and another guy, who was playing the keytar. The song presentation looked staged for a band set-up.
In the background the letter X in yellow is being screened several times while later on Emma's face from the preview clip is being projected. There are several shots to be improved but the act includes some good aerial shots which adds power to this song. Emma starts her song with a standing microphone but soon she starts moving around on the catwalks situated on each side of the stage.
Emma's voice is aggressive but suits this type of rock song. Before the last chorus of the song she adds to the provocative feeling in this act as she crawls on one side of the stage. Soon she joins her band and ends her flawless performance. The band seems to enjoy rocking the stage, especially the drummer who seems to get into each beat of the song.
Overall it was a good rehearsal for Italy and the composition of the Italian entry can stand out from the rest of the other songs.