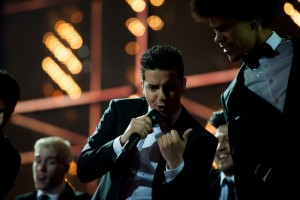 It was time for host favourite Basim to take to the stage with his infuriatingly catchy Cliche Love Song. He proved how versatile an artist he is when performing his entry as a ballad yesterday, so hopes are high for Basim's first set of rehearsals today. 
The setting for the Danish stage show was quite similar to the one seen in the national final. On the stage floor, rippling waves of sparkling orange and gold light swept across the floor. The back drop also featured pulsating lights in the same tones as well as stars fit well with the beams of light.
Cheeky youngster Basim took to the stage wearing a black tuxedo with a white shirt and red bow tie. He was flanked by five backing singers/dancers all wearing identical outfits with white socks. Basim's routine starts off with the outline of Basim against the glittering backdrop before he moves over to his dancers. The routine quickly evolves into a physically demanding one as both he and the dancers bound around on stage, filling the floor and using the catwalk. The dancers did their own moves before joining Basim in hot stepping when singing the chorus.
There are clear issues with Basim's vocal today – his vocals were for the most part in tune, although they weren't a patch on how he performed Cliché Love Song in the national final or last night for that matter. It lacked spark and the same level of energy as seen earlier. He appeared to have problems with his earpiece in the first run through and by the second through it became apparent that he was holding back as he must be experiencing throat problems as he kept missing out words, merely mouthing them. 
What Basim lacked in vocal dexterity today, he more than made up for in terms of camera technique. He definitely needs to smile more and look like he's enjoying himself more on stage rather than concentrating on hitting that long, high note. During the final run through, a burst of pyro flashes were set off around the stage while at the same time a huge banner featuring Basim's face, a heart and the word love was unfurled from far above the stage down to the floor. This falls to the ground at the end of he song while rays of light flash in a frenzy on stage. General reactions to the banner was that it was presentational hara kiri.
Basim's first run through gained a lot of applause, but not as much as Molly's rehearsal today. With a lot of danish press present, the lack of applause after subsequent run throughs felt very strange indeed. It was by no means a bad rehearsal, but the disappointment was clear to see.