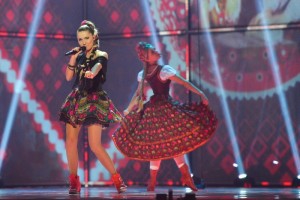 The Polish Donatan & Cleo were back on stage with their song My Słowianie – We Are Slavic. Some of us here present, were eagerly waiting for their hot and spicy performance. Will Poland impress Europe with this act after returning to the contest?
As expected Cleo kicked-off the song by introducing Donatan and the music rollrf on in Polish. Cleo was accompanied by three female backing vocals who were clad in Polish traditional costumes. At each side of the stage there were two busty females who were selling out the act while washing and making butter.
The aerial shots used in this performance gave us a look at the stage floor which is red. This clearly depicted a hot and aggressive feeling that the song is transmitting. Cleo's shouty vocals go well with this type of song and the dance routine performed in a circle in the middle part of the song makes the act memorable. Cleo is also holding and waving two coloured handkerchiefs which represents the Polish flag colours (white and red).
In the end, the song switches in English to make it more appealing for all those who doesn't stand the use of native language in Eurovision. The act is all about the beauty that Slavic girls own. It is easy to remember this act which is kind of provocative with the two voluptuous girls in the side are doing more effective house work than the four ladies of Laka's song for Bosnia & Herzegovina in 2008.