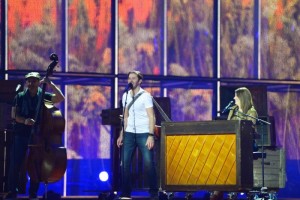 The group Firelight from Malta and their song Coming Home was first to go on stage today for their second rehearsal. A good number of journalists were present at the hall to follow Firelight's second run following their impressive first rehearsal of last Tuesday. Will they be able to bring home Eurovision following a victory in the junior contest?

Firelight appeared very relaxed and seemed to enjoy every minute on stage. The staging involved a meadow environment with the stage floor looked amazing during the aerial shots. The back drop included wheat grass and poppies which links to the preview clip that paid tribute to those who never returned home from the first World War.
The song builds up and flash lights are used during the beaty drum sounds. Selfie photos in large boxes were being projected as background and here in the hall we recognised some of them. The group's vocal performance was excellent and since they were not moving around the artists were focusing on their singing and working with the camera shots. 
The empty wooden crated boxes created a country style environment which clearly reminded us of Rednex. However, overall it looked good with the first part of the song involved two steadicams going round the group while
focusing on the lead singer of the group, Richard Edwards. He was
transmitting some of his own penned song through body language.
The synergy which was clearly seen on stage can work out into votes that will help Malta qualify to the final for the third time in a row.