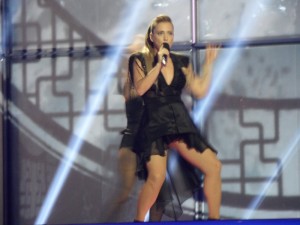 Mei Finegold took to the stage and gave an energetic and solid performance of Same Heart. The upbeat and pulsating dance/rock song was given the best performance vocally and visually.
Mei Finegold began at the back of the stage facing with her back to the audience. As the song builds in to the frantic energy she moves to the forward and is joined by two female dancers.
Mei and the dancers are wearing black. The dancers are wearing leotard outfits and give a gymnastic and almost kung fu moves on the stage.
The lighting is very effective with strobes and colours of red and gold and a grey background with images of the sky.
Eventually Mei and the dancers move towards the front of the stage using the catwalk. The vocals of Mei are outstanding and she improves after every run through.
Mei and Israel have a strong chance of doing well with this song and high energy performance.