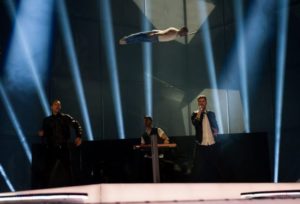 After a one hour break it was time for Greece. The stage turned into one huge party zone. Rise Up is a dance song combined with rap. Since 2004, when the semi-final format was introduced, Greece always qualified to the final and this year the country is expected to follow its previous results and advance to Saturday's grand final.
Freaky Fortune feat. RiskyKidd creates one big party, not only on stage but also in the hall. The song starts with a dark stage while white lights are forming on the background screen. Few seconds later we're for a dance tune with a number of shots aimed to capture the crowd craziness for this song.
The Greek group is inviting everyone to jump, have fun and sing along the song. Soon after, a trampolinist appears on stage to also jump with the song. Though the song presentation involves a lot of movement, the vocals of Nikolas (lead singer) are good and all the performers on stage appear confident.
The camera shots are the key for this song as there are some good revolving camera shots through the use of the steadicam. The camera work for the Greek song also includes an impressive hazy shot of the trampolinist as he jumps while the line 'Rise Up' is heard. 
The energetic performance is very memorable and will surely rise up the roof of B&W Hallerne arena on Thursday night. Greece is on course to qualify and with a good draw in the final, the act can achieve a respectable place.