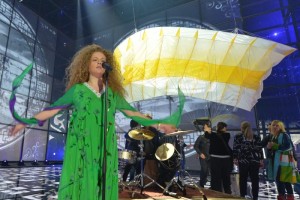 The Shin and Mariko performed their second rehearsal of Three Minutes To Earth for Georgia. This unusual song was well performed by the band with the guest vocals of Mariko. What will Europe make of this song and performance? 
We wonder what will Europe make of this folk and ethnic song from Georgia. The Shin and Mariko give a good performance on stage.
Mariko is wearing a long orange and ethnic style gown and is joined by The Shin who are all playing their instruments on the stage.
There is even a use of a parachute on the stage. Very unusual. Perhaps this will help gain extra votes for the unique performance. The colour of the parachute is yellow and white and almost takes over the stage with the size.
The stage lighting is again very effective. The band are entertaining but will the unusual feel of the song be enough to qualify?
The Shin and Mariko are a very good band and are well respected in Georgia, The enthusiasm and clever stage performance might be enough for them to progress to the final.