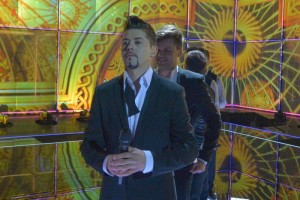 Teo brings some Cheesecake to the stage for the second rehearsal for Belarus at the 2014 Eurovision Song Contest. Teo and his dancers look smart and look like they are having fun on the stage.
Teo and his dancers casually walk towards the cameras the song begins. Teo is dressed in a black jacket and black trousers and a white shirt. His four male backing vocalists and dancers are dressed similarly and all look smart but casual.
The lighting is large city buildings flashing in red and yellow lights and the flooring is black and silver squares flashing in and out.
The stage show is quite slick but Teo's vocals seem a little strained at times. It is a good stage show but appears to lack a little charm that the promotional video showed. I was expecting a girl on the stage like the video where Teo sings to her but the stage performance is missing this.
Is the song to 'cheesy' to make it to the final or are the public hungry for some Cheesecake on 10 May?