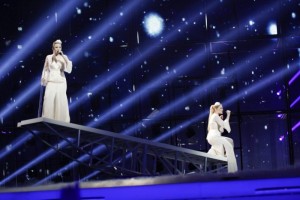 The Russian twins, Anastasia and Maria, gave a beautiful rendition of their song, Shine, during the opening night of the EuroClub on Monday night. It will be interesting to see whether there will be any changes to their presentation for the second rehearsal – will the slightly messy intertwined ponytails still be there for example?
The performance still starts with the Tolmachevy Twins back-to-back on the platform with the arced base that, later in the presentation, acts as a see-saw for the two of them. The choreography cleverly makes use of the twins reflecting each other's movements – even the intertwined ponytails work better today. The transparent rods are still there at the beginning of the song when the stage is lit in blue for the first half of the performance, accentuated with use of spotlights, dry ice and impressions of shooting stars on the backdrop and floor. There is a dramatic change after the key change however: the palette for the stage changes into yellows and oranges as the twins turn to face each other against the closing fan they also used in the first rehearsals and is now lit in bright warm yellow.
The twins are wearing long crème gowns with muslin jackets and their hair is worn in wide curls close to their head – tiny hats are introduced for the second run and are still used for the third run of the song so it is possible that they are there to stay for the semi final. Anastasia and Maria look very pretty and they manage to connect to the camera as, during the first rehearsals, for all their sweetness they looked a bit withdrawn. Vocally, the twins are as strong as ever, giving one stunning rendition after another and the overall effect is that of a polished performance.