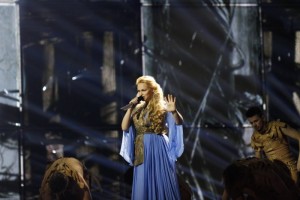 Multi-talented musician Cristina Scarlat will be rehearsing Moldovan entry Wild Soul. Even though Cristina is a lead performer of the Presidential Orchestra in her country, she looked a bit strained during rehearsals last Tuesday. Could it be the tension from finally fulfilling what she confesses is her 'most persisting dream'?
The presentation starts with Cristina in silhouette against blue spotlights. When she gets lit, there is a dancer raised up horizontally behind her. Cristina is wearing a long blue gown and half of what appears to be a centurion's armour over the upper right part of her dress; her long hair is tied in a long ponytail over her left shoulder. Her dancers are dressed in light brown costumes that also allude to some sort of ancient civilization. In fact the whole set up is reminiscent of ancient Greek drama, with Cristina as the tragic heroine surrounded by the menacing dancing of a chorus – this of course would reflect the singer's background in classical singing. The choreography moves do match the sharpness of the music phrases and the way Cristina delivers the lyrics.
The stage is lit in black and white, which is also the colour combination for the impression of dry woodland on the background, with moving blue spotlights. There is also red introduced during the second half of the song in the form of what looks like poppies projected on the background display. During Cristina's dramatic gimmick of taking her long (false) ponytail off while hitting one of her high notes, the stage turns bright white.
This is actually an improved performance compared to the one last Tuesday. Cristina looks more confident on stage and her vocal performance for a difficult song is good albeit still creaky at times – again she should take care not to exhaust her voice before Tuesday's semi final. It would also be nice if the singer looked to the camera a bit more. Appearing to be staying in keeping with the Greek drama theme, the song finishes with Cristina surrounded by her dancers having assumed a formation of still poses.