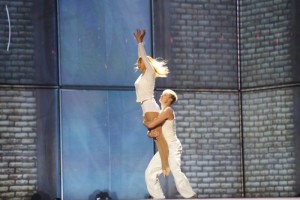 The third participant to take to the stage for their second rehearsal is Estonia's Tanja. Just like she did in the Estonian final, Tanja impressed everyone during last Monday's first rehearsal with her ability to give a strong vocal performance while, at the same time, carrying out a very athletic dance routine.
The presentation still starts with Tanja and her male dancer lying on the dance floor, where there is also a written message projected this time. Otherwise, the wooden floor impression for the stage and white block wall for the background is still there, however the latter is toned down a bit with only intermittent panels sporting the block effect while the rest of the backdrop is now in light blue; this is a good choice as the stage looked a bit cold at the first rehearsal. There are dramatic light changes, one when the background goes black with impressions of white flying birds as well as a sequence with quick changing lighting effects that give the song a well needed oomph towards the finale.
Tanja is wearing a tight long-sleeved white top and white short pants and not the white flowing skimpy dress she was wearing for the first rehearsal, so it will be interesting to see what outfit she will choose for the Second Semi Final. The vocals are still seemingly effortless while Tanja is performing the rather intricate choreography with her male dancer. The performance goes well until the point when the singer loses her microphone right at the end of the first run; this exposes the extent to which her singing is complemented by the backing vocalists. Tanja is nevertheless an impressive performer and the people present in the hall dance to her song while it is on.