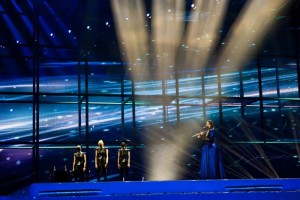 Tinkara Kovač is the penultimate act of the day performing her entry Round and Round or Spet as it was originally known. She sings a bilingual version in her first rehearsal but will this leave her going round and round in circles or will she and Slovenia be headed straight for the final?
Tinkara takes to the stage as the penutlimate act of the day wearing a stunning floor length sapphire blue dress, which looks so elegant with its intricate black detail. She has three female backing singers with her, all dressed in black. She opens by playing the introduction on her flute.
The stage also carries on the blue theme. It begins with a jet black backdrop pierced by birght blue rays which look very fetching. The stage wall changes then to similar colours, with a whirlpool of blue clearly visible on the floor with Tinkara standing in the middle of the swirling vortex. Towards the end of the song the stage bursts into yellows and ochres with coloured spheres orbiting around on the backdrop.
The staging of the slovenian rehearsal is minimal, to say the least. There is very little actually going on on stage besides the flute playing and the whole package appears highly static. Close up shots of Tinkara clearly show an artist who looks uneasy, who needs to relax a little more and loosen up somewhat.
Tinkara's vocals weren't the best we've heard unfortunately – they were by no means bad; passable with a few duff notes here and there but sounding slightly strained. It's such a shame because in terms of melody, this is one handsome tune with echoes of Shakira about it. She is given ample vocal assistance by her backing singers and this makes for some nice harmonies at times which are very easy on the ear. Tinkara could however excercise a little restraint vocally towards the climax as it's easy to hear that she is struggling with her notes veering out of control. She could also benefit greatly from being a little more engaging and making eye contact with the camera, because this is quite a lacklustre performance. An average first rehearsal; many good points to build on, but this needs considerable work on both staging and vocals – hopefully subsequent rehearsals will better the overall impression.