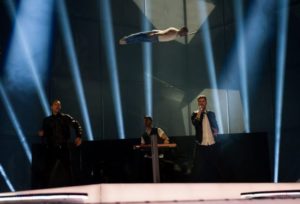 Time for Freaky Fortune, made up of Nikolas Raptakis and Theofilos Pouzbounis, and rapper RiskyKidd to have their first rehearsal for the Greek entry. Rise Up is an optimistic song combining dance music with rap. Greece has always managed to qualify to the Eurovision final since the introduction of semi finals so the young artists have a lot to live up to.
The song starts with the stage in darkness but for some white lines forming on the background walls; the group is initially shown in silhouette. The presentation makes full use of the large steel grid in the middle of the stage, one of the main features of the set design this year, which is lit in white towards the beginning of the song. Risky Kidd and Nikolas move about singing on stage while Theofilos stays behind his deck in the background. Both Nikolas and RiskyKidd use the runways on either side of the stage.
Nikolas, the lead singer of Freaky Fortune, looks very relaxed and performs really well to the camera, proving that his restrained performance at the Greek national final was down to him being ill at the time. RiskyKidd becomes more relaxed and smiley as the rehearsal progresses; the first run of the song was shown half way through in the press centre and there appeared to be sound problems that might have affected him. There were some camera problems, too, but the camera work is good when it gets going: there is a nice revolving camera shot around Nikolas, some panoramic views of the hall as well as some close shots with the camera moving rhythmically up and down while being directed at (empty at the moment) audience seats.
The stage is lit in white and blue with white lines forming geometric
patterns on the stage floor and background. There is also a great amount
of crossing white spotlights.
The main presentational trick occurs towards the end of the song when there appears a trampolinist on stage. There is an impressive hazy shot of one of his jumps against a brightly lit white background just as the line 'Rise Up' is heard. The two singers put the trampoline to good use themselves as they join the trampolinist, jumping up and down (trying to 'Rise Up' one would guess). The energetic presentation closes with an overhead shot of Nikolas, RiskyKidd and the trampolinist lying on the trampoline. The song puts a smile on people's faces and receives an applause in the press centre.