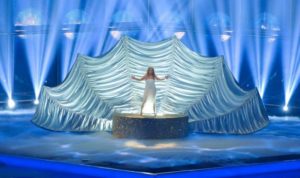 Valentina Monetta should be feeling a bit more confident than other contestants when she gets to the stage for the first rehearsal of her entry Maybe. This will be the third consecutive year that Valentina, teamed up with her producer Ralph Siegel, will be representing her native San Marino.
The San Marino presentation starts with a close shot to Valentina's pianist who is placed right at the edge of the stage. The camera moves over him to reveal Valentina on a glittery podium. The stage is brightly lit, initially in white with blue spotlights. Valentina is wearing a white long dress and immediately behind her there is a large semi-circular canvas installation resembling a seashell which changes colour with the lighting.
Valentina looks confident and she remains smiley throughout. Her vocals were a bit thin during the first run of the song, but her performance improves and is not bad at all during subsequent runs. She should perhaps be careful not to overdo the way she moves on the podium while she performs. The stage lighting changes quite dramatically into golden orangey shades half-way through. This actually comes across as a well worked presentation and it finishes with Valentina looking straight to the camera reaching out her hand. This is the first song to get a bit of an applause in the press centre.