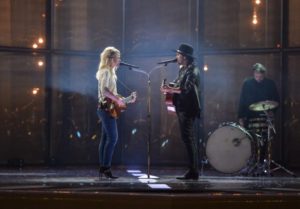 The Dutch representatives, duo Common Linnets, are made up of Ilse DeLange and Waylon, two of the most successful artists in their home country. With their understated ballad Calm After The Storm they will be bringing some country music to today's rehearsals.
The presentation starts with an overhead camera shot of the Common Linnets facing each other standing on an impression of a moving road (a clear reference to the song's 'Driving in the fast lane' opening line). They are both playing guitars and are surrounded by their musicians. Ilse is wearing a white woven top and what appears to be blue jeans whereas Waylon is in black, complete with a wide brimmed hat.
The camera keeps moving in long fluid sequences around the singing duo, often in the form of close ups. The emphasis of the staging is on the floor, mainly in black and white geometric patterns resembling initially a web of cracks and later interwoven tree branches, rather than the background walls. The predominant colours used for the lighting are golden shades of brown and warm yellow contrasting the black and white for the floor and background walls.
Ilse and Waylon's vocal performance is spotless. Ilse, who plays really well to the camera, initially seemed to dominate the camera shots, but that might have been coincidental as there were some camera problems during the first run of the song. The overall effect is that of a solid, sleek performance that receives an applause in the press centre.