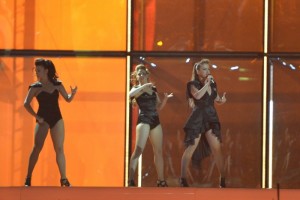 It's time for the Israeli representative, Mei Feingold, who, apart from being a singer/song writer, is also an award winning theatre actress in her native country. Israel has not managed to qualify to a Eurovision final since 2010, so Mei might be feeling some extra pressure to change that with her entry, Same Heart.
The presentation starts with the camera zooming in to Mei with her back to the audience, the dominating feature of the staging being square black and white patterns on the floor. The singer's vocal performance starts a little shaky in the first run of the song, but soon picks up and her husky voice shines through during the following runs.
The stage changes from red to blue to orange and yellow with occasional flashes of bright white light. The geometric patterns found initially on the stage floor are later reflected on the borders of two characteristic circles that appear on the background walls while the set is lit in blue.
Mei is in a black dress that's very short at the front and is joined by two female dancers in matching skimpy black outfits. They all carry out an energetic routine that covers most of the stage and, towards the end, use the runway where the presentation comes to a close with nice shot of Mei and her dancers.
Mei gives a very confident and lively performance to match her song and receives an applause in the press center.