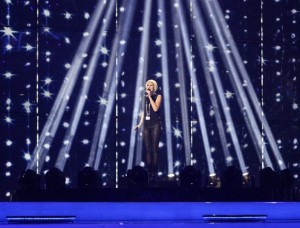 After a one hour break, the fourth country to rehearse this morning was one of this year's favourites, Sweden. Having tried many times before to represent her country in the contest, getting on the Eurovision stage at last must be a really special moment for the Swedish representative, Sanna Nielsen.
Estonia's energetic performance will be a hard act to follow for Sanna. Yet the change of style between the two songs serves to set off the Swedish ballad. The song starts with an overhead camera shot of converging blue spotlights forming a tall cone; as the camera gets lower and closer, Sanna is revealed surrounded by the spotlights. Indeed, the presentation is based on the use of these moving spotlights; in this respect, it follows the same concept as that used for the Swedish national final. The stage is otherwise predominantly black; there are blue details on the floor whereas the background is accentuated by stars and floating bubbles.
The singer is dressed in black, still wearing her Eurovision badge around her neck. From the very beginning, Sanna gives a strong vocal performance. During the close up shots, Sanna's face looks quite serious, a bit strained perhaps, as the singer is concentrating on her performance, but she otherwise looks fairly confident on stage. given that this is her first rehearsal. The camera angles were still being worked out as, at some point during the second run, there was a shot where Sanna's face was partly obscured by another camera.
The staging builds up to quite a dramatic finale. As the song builds up after a pause towards the end, the stage is flooded in bright white light before it goes dark again and a long shot reveals a bright white light shining high up, right at the point where numerous spotlights from the bottom, right and left of the stage meet over the singer. The overall effect is quite sleek. It is evident that the Swedish delegation has put some thought into their presentation.