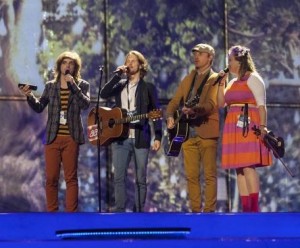 German Joran Steinhauer is the lead singer of Aarzemnieki, the Latvian representatives this year. Singing 'Cake to Bake', it's time to see their baking skills in action. Will they overbake?
For the first run, Joran was wearing a smart casual suit (which was taken off for the second one). The singer starts his presentation looking straight into the camera as he walks towards the other members of the group against a blue lit stage. The rest of the group are wearing colourful outfits that are set off by the blue background which soon displays an impression of trees with shiny yellow lanterns.
Even though this is their first run and everyone looks a bit uncertain onstage, Joran remains all smiley nevertheless interacting with his fellow group members, who look quite relaxed. The Latvian presentation comes as a contrast to the more static Armenian one that preceded it. At some point Joran uses the walkway and is soon joined by another group member. One would think that Joran is still trying to find his way around the stage and look at the right camera and, as a result, his vocal performance comes across as a bit shaky at times, but it gets much better during the second run.
The presentation finishes with the whole group close together smiling to the camera. Overall, the presentation lacks polish at this stage. One expects that, as the song is rehearsed more, the group will manage to reflect the relaxed, feel-good essence of the song a bit more – indeed, run on run, Aarzemnieki is giving a noticeably improved rendition of their song. Perhaps a few more minutes in the oven and Aarzemnieki will have baked their cake just right!