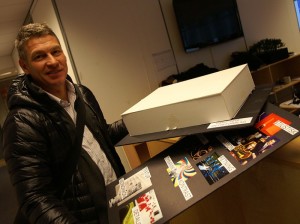 Today Danish broadcaster, DR, announced that Claus Zier has been hired as stage director on next year's Eurovision Song Contest. Claus will be responsible for building up the visual look, and he reveals part of the vision he already has in his head.
Claus Zier has previously worked on shows like X-factor, The Voice, Strictly Come Dancing and also the Danish national final, Dansk Melodi Grand Prix. The Eurovision Song Contest will be the largest he has ever worked at, as a stage director, but it will also be a dream coming true:
"I couldn't believe it when I was asked to do the set design for the Eurovision Song Contest. For several days I went around knocking my hand in the table and pinching myself in the arm. It is a dream and I am superproud", says the newly announced stage director on next year's Eurovision in Copenhagen, Denmark. He adds that he has been dreaming of this since Denmark hosted the contest in 2001.
The Eurovision Song Contest will tage place in B & W hallerne, which is an old industrial building. It is standing with its raw walls and not yet ready for a show like this, but Claus Zier looks forward to this interesting and unusual task of preparing it: "It is a challenge to create a dynamic and modern show in those old halls. We will therefore first focus on the history and the physical frames and then slowly move into something more abstract. It will be a visually amazing show".
From DR the people working on the 2014 edition of the Eurovision Song Contest have high ambitions for which kind of show they want to create and Claus Zier says that it suits him just fine. He also adds: "The Scenography should be so strong that one is not in doubt that it is the same show, eventhough there will be different expressions for each partiicpating country. We have a fantastic height which we have to use and we need to  get magic into this room. We will manage".
The 2014 Eurovision Song Contest will start late April with the first rehearsals, and the three live shows will take place on the 6th, 8th and 10th of May.
You might also want to read: