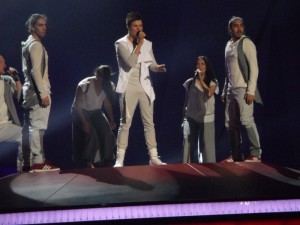 The much anticipated second rehearsal of the home team, Sweden, took place.  Robin Stjernberg and his dancers/vocalists gave an energetic and solid performance of You to the watching journalists.
It is always difficult for the host country to follow a winning year with another success.  Can Robin Stjernberg break previous traditions? Today he gave successful run throughs with his team on stage.
The performance was very energetic particularly from the dancers and vocalists on stage with Robin.  There were two dancers who doubled up as dancers too.  The dancers were running around the stage and performing acrobatic type movements during the routine.  In all there were five dancers performing.
Robin and his team were dressed in white and grey.  They wore white sleeveless waistcoats and grey trousers.
The stage was raised where Robin sings and the dancers joined him moved and walked and ran around and between him.
The lighting was very bright with strobe pearl/white lighting.  There was smoke/dry ice rising from the ground.  There was also use of some pyrotechnics for the finale of the song.  Fireworks were used and they flowed down sparkling effectively.