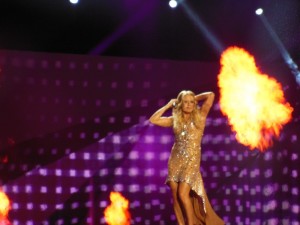 After a very successful first rehearsal on Sunday the expectations for Cascada's second rehearsal were high. Before heading off to the arena singer Natalie posted on her Facebook site that she had vocal problems. How would this effect her performance?
The presenation of Glorious as well as the lightning and the costumes were not changed. During the first run through we could hear that Natalie indeed seems to have some problems with her voice today as she sounded weaker than on Sunday and in some parts her voice came across a bit scratchy.
She improved her vocal performance during the two last run throughs, so that the overall presenation was fine again. This time Natalie also managed to do all three sessions with her shoes. On Sunday she performed the last two run throughs barefoot as the shoes were a little bit too big.